Tree Trimming Services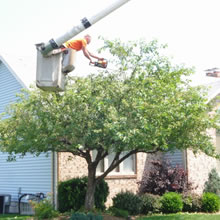 Healthy trees are consistently pruned. Trimming (pruning) your trees back so they'll grow healthier is just one aspect of pruning. There are many reasons to prune trees and we can handle any issue from health to safety to maintenance.
If you have trees on your residential or commercial property that are looking a bit "wild", reign them in by using our expert tree trimming services. Our experienced staff will know how to trim the trees to look complimentary to the surrounding landscape and to help them look neat and well kept. Having well kept looking trees can really add a lot of beauty to your property as it will look maintained and healthy.
If you have a tree trimming need, contact us today for a free estimate! Having been in business since 1991, we offer the most affordable tree trimming services in the area, so call us today!
We are licensed bonded and insured for your protection and your neighbors.