Tree Pruning Service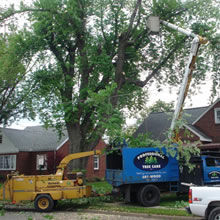 Pruning trees is essential to ensuring overall tree health and to keep the trees producing effectively.
Healthy trees are consistently pruned. Trimming (pruning) your trees back so they'll grow healthier is just one aspect of pruning. There are many reasons to prune trees and we can handle any issue from health to safety to maintenance.
Other types of trees that need pruning are when there are branches that have shot off in directions that come in contact with walk ways, make the tree to heavy on one side, or if there are too large of branches towards the top of the tree. No matter what the reason is that the tree needs to be pruned, Professional Tree Care, Inc. Tree Pruning has a team of arborists that will be able to effectively and safely prune your trees to maintain their health and to solve the immediate tree pruning needs.
Our tree pruning staff will prune your trees in a timely and affordable manner. If you have tree pruning needs, contact us today for a free estimate.
We are licensed bonded and insured for your protection and your neighbors.