Stump Grinding & Removal Services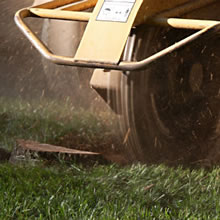 If you need tree stumps removed from your yard, Professional Tree Care,Inc. stump grinding service is the way to go. Stump grinding provides a less abrasive tree stump removal process than other methods. Pulling a stump can leave a large hole in your yard that will need to be filled, and heavy equipment can damage your landscape and be costly to hire. Stump removal with a stump grinder is a low impact way to remove unsightly or dangerous stumps. We can access areas that will not accommodate a large piece of equipment, and as an added benefit, grinding the stump creates mulch, which can actually be used around your yard and gardens.
If total root removal is necessary we have excavators that can take care of it. After the grinding is complete and you are looking at that pile of stump grindings we can help by hauling away the debris, filling the hole with top soil and applying grass seed.
We are licensed bonded and insured for your protection and your neighbors!